CALL TO ACTION: Operation America - Honor the Founding Fathers (II)!
On Father's Day, as the first part of Operation America's Honor the Founding Fathers campaign, we called upon our US Senators to "Honor the Founding Fathers." See Free Republic Call to Action. Now we embark on the second phase; it is time to call on our U.S. Representatives to "Honor the Founding Fathers."
On July 4, America celebrates! We commemorate the signing of The Declaration of Independence. On this, the first Independence Day of a new millennium, we can honor the signers of The Declaration of Independence -- the Founding Fathers of our nation, by sending them a message, in care of the stewards of the offices that their vision created. Our postcards and letters will reach not only our Representatives, but also those who work with them, those young interns and aides who aspire to be a significant part of our future. Let us remind our Representatives and their staff that they should not lightly disregard the wisdom of our Founding Fathers.
---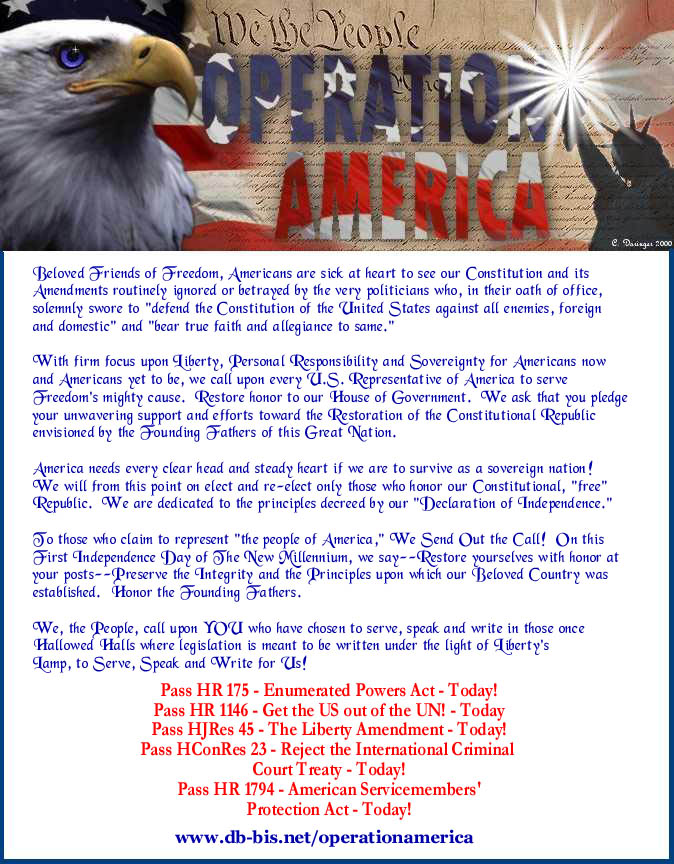 Now is the time to send a message to your United States Representatives!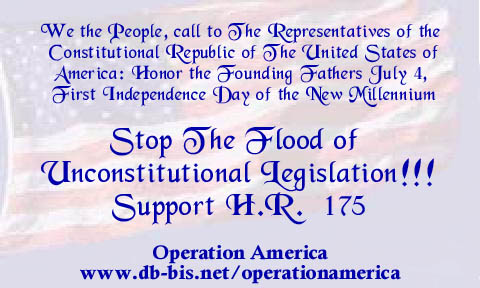 ---
CALL TO ACTION: OPERATION AMERICA - Honor the Founding Fathers on Independence Day
First: Snail mail. Print out the letter and as many of the six postcards as you can and snail mail them to your Representative. Additional postcards can be obtained from either the Operation America website, or at the quick-print page. Print the postcards, cut them out and, using a gluestick, affix the images to 21-cent USPS postcards. Or you can right-click and copy the images to your word processor, and then drag and drop them to fit, print them out. You can also print these directly onto perforated sheets of 4 postcards to a page, and then attach a self-stick stamp. To have them printed professionally, copy and save them to a floppy and take to a local printer. Please mail asap be arrive before the Representatives leave town for their Independence Day!
Second: Send the letter by Fax. Your Representative's FAX number can be found [link here].
Third: Send email. Follow up your letter and postcards with an email to your Representative: - "did you get my postcard, letter?" Reiterate your "message" to him/her.
---
Click the logo to visit the Operation American website -
learn more about us and our projects!

Beloved Friends of Freedom, and all who serve its mighty cause, Operation America is grateful for your energy, wisdom, dedication and courage. We seek to represent love of country and belief in the "American Dream" and dedicate our Calls To Action" to every American whose voice would be heard on behalf of our Constitutional Liberties.

May God Bless America and God Bless You.
---